Compressport R2 Oxygen Calf Sleeves Black Edition 2021:Black - SU00030L_990
Be light. Be fast. With the limited Black Edition of our featherweight R2 Oxygen calf sleeves, your performance just got a stealth upgrade. These top-of-the-range sleeves are developed specifically for fast racing in the most extreme conditions, and we're adding a touch of understated class. Weighing in at a mere 11g, the sleeves offer an ultra-soft, second-skin feel which is powerfully reassuring in its weightlessness. Extra-thin maybe, but the swiss-woven fibres provide elite-level, medically-controlled support and protection to boost performance. Muscle vibration and damage are limited while blood flow is increased so you can run faster, for longer. With strategically-placed, quick-drying mesh panels that provide maximum 360° aeration, your legs will never feel heavy as you rip through the pack on your way to a marathon PB. Easy to pull on thanks to optimised horizontal and vertical stretch, we guarantee you will feel no chafing or discomfort. This special Black Edition is finished off with classy black-on-black prints and a hint of turquoise so you can stay undercover until the time comes to unleash the finish-line sprint. The race is yours.
KEY BENEFITS
Postponed fatigue and improved performance through reduced muscle vibration, helping you maintain speed and intensity for longer during effort
High-level muscle support to the calves, decreasing the risk of injury and cramps through targeted 360-degree compression
Maximum thermoregulation thanks to mesh ventilation panels woven directly into the fabric, helping keep your calfs dry and cool in the hottest conditions
Product net weight
0.000000 g
Compositions
79% PA 21% EA
Wash & care instructions


TECHNOLOGIES
ANTI-FATIGUE
The absorption of shock and vibration on muscles, veins and joints increases resistance to effort.
SIZING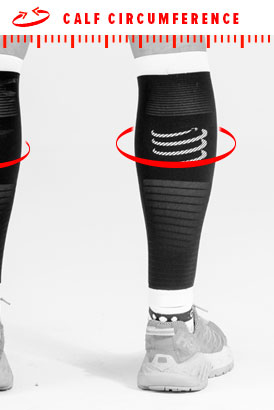 | | CM | INCH |
| --- | --- | --- |
| T1 | 30-34 | 12-13,5 |
| T2 | 34-38 | 13,5-15 |
| T3 | 38-42 | 15-16,5 |
| T4 | 42-46 | 16,5-18 |