Compressport Unisex Pro Racing Socks v3.0 Run High - Black Edition 2021:Black - XU00039L_99
Be elegant. Be ready to take on any run. The special Black Edition of the famous Pro Racing Sock v3.0 Run High is packed with cutting-edge technologies and wrapped in darkly handsome urban class. Burning up the tarmac on summer runs need no longer be synonymous with burning up your soles: specific fibres prevent hot spots and ensure your feet don't overheat. The fabric is highly ventilated thanks to an original airy-weave, wicking away sweat and moisture to stay dry and cool at all times. Cleverly-placed 3D.Dots on the internal malleolus protect the bone from impact for runners who tend to clip their ankle with the opposing foot when fatigued. Our signature targeted compression boosts blood flow and keeps your legs fresh, while the clever toe box is reinforced to reduce the risk of blisters and blue nails. The tight foot arch prevents the sock from twisting and irritating as the distance builds. These classic black socks with a hint of summery turquoise are an explosive package of technology and performance. Exactly what you need to subtly take your running to the next level.
KEY BENEFITS
Hot spot prevention thanks to specific fibres in targeted areas which stop your feet from feeling hot and burning up during running
Anti-slip technologies which prevent the fabric from moving or folding as you run and increase the grip of the foot in the shoe
Breathable and highly-ventilated fabric, ensuring sweat and moisture are quickly wicked away so feet stay fresh and dry
Product net weight
0.000000 g
Compositions
94% PA, 6% EA
Wash & care instructions


TECHNOLOGIES
ACHILLES PROTECTION
The cushioning effect of the 3D.DOTS at the rear of the sock protect the Achilles tendon from friction and pressure.
SIZING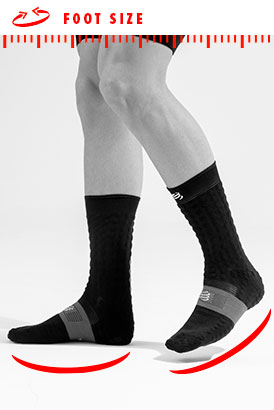 | | EU | USA (M) | USA (W) | UK (M) | UK (W) | BRA |
| --- | --- | --- | --- | --- | --- | --- |
| T1 | 35-38 | 3,5-6 | 5-7,5 | 2,5-5 | 3-5,5 | 33-36 |
| T2 | 39-41 | 6,5-8 | 8-9,5 | 5,5-7 | 6-7,5 | 37-39 |
| T3 | 42-44 | 8,5-10,5 | 10-12 | 7,5-9,5 | 8-10 | 40-42 |
| T4 | 45-48 | 11-13,5 | 12,5-15 | 10-12,5 | 10,5-13 | 43-46 |