Compressport Unisex's Pro Racing Socks v3.0 Ultra Trail - UTMB 2021:Blue - XU00038L_500
Let's face it, tearing your feet to shreds can be a risk when we're talking about UTMB®. 100 miles is a long, long way, and that's exactly what we designed our PRS Ultra Trail Socks for. Engineered to take on the brutal demands of the big race, they provide a reinforced Achilles strap for incredibly stable support. Multiplied 3D.Dots absorb a maximum of shocks and vibration from the constantly varying terrain, and cleverly prevent bruising on the inside leg and malleolus caused by flying feet. The toe box is specially reinforced and padded to protect toes and nails on relentless, technical descents. On the mid and forefoot sections, the Dots combined with a 360° arch support prevent the material from twisting, reducing the risk of blisters and giving you increased stability as you negotiate gnarly sections. Targeted compression boosts blood flow to delay fatigue and allow you to keep running through the night. The dark blue licenced 2021 UTMB® edition features the official event logos and a checkered pattern on the leg to match the rest of the range. So take your cues from our pros and conquer the biggest race of the summer in the unrockable Ultra Trail Socks.
KEY BENEFITS
Maximum comfort provided by additional padding and a reinforced toe box, specifically designed for the demands of ultra-distance races
Increased stability and proprioception for a reassuring, supportive feel and hightened foot awareness, encouraging you to be extra-consciousness of foot placement in rough and rocky terrain
Specific muscle support and injury prevention thanks to targeted compression and reduced vibration in the ankle and lower calf
Product net weight
42.00 g
Compositions
95% PA 5% EA
Wash & care instructions


TECHNOLOGIES
BAREFOOT PERFORMANCE
The extensible fibers follow your stride. As your feet is up in the air, the fibers provide a strong support stimulating blood circulation. As your feet hits the ground, the fibers let your feet expand naturally without blocking the instinctive position of the feet. Your posture is enhanced, you perform better and longer.
SIZING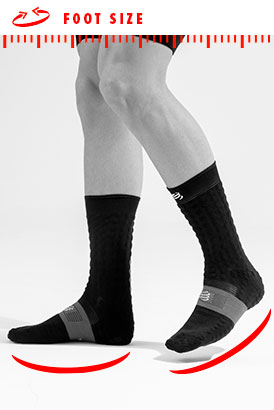 | | EU | USA (M) | USA (W) | UK (M) | UK (W) | BRA |
| --- | --- | --- | --- | --- | --- | --- |
| T1 | 35-38 | 3,5-6 | 5-7,5 | 2,5-5 | 3-5,5 | 33-36 |
| T2 | 39-41 | 6,5-8 | 8-9,5 | 5,5-7 | 6-7,5 | 37-39 |
| T3 | 42-44 | 8,5-10,5 | 10-12 | 7,5-9,5 | 8-10 | 40-42 |
| T4 | 45-48 | 11-13,5 | 12,5-15 | 10-12,5 | 10,5-13 | 43-46 |