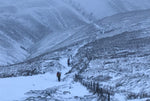 It's widely regarded as one of the world's toughest endurance races. Held amidst the harshness of British winter, the 268-mile Spine Race pushes competitors to the limit as they run, hike and, at times, crawl their way along the iconic Pennine Way trail, taking in around 37,000ft (11,277m) of elevation gain as they go.
First staged in 2012, there were just 3 finishers from the 11 starters in its inaugural year. Last year (2018) there were 118 starters, with just 53 reaching the finish and 65 failing to do so. Yes, it is that tough.
This year will see 125 men and 12 women from a total of 15 different countries (with Canada, USA, Brazil, Japan, Belgium, France, Denmark, Spain, Italy, Czech Republic, Germany, Finland, Sweden, Ireland and Great Britain) take to the start line. Amongst them will be Scotland-based inov-8 ambassador Jasmin Paris, the holder of multiple ultra running records, attempt the Spine Race for the first time. We chatted to the 35-year-old mother-of-one ahead of her toughest challenge to date.
HOW WOULD YOU DESCRIBE THE SPINE RACE?
The Spine Race is a 430km (268-mile) race along the Pennine Way in mid-winter, running from south to north, from Edale to Kirk Yetholm. Competitors have 7 days to complete the race and can sleep at checkpoints along the route, but the clock never stops ticking. That means it's as much a race of sleep deprivation as it is running ability, navigation and weather resistance.
IS IT A RACE THAT'S BEEN ON YOUR RADAR FOR A LONG TIME?
It's certainly a race I've known about for some time, since it starts on the same day as the Trigger Race (Marsden to Edale), which I run every year. The two races share a section along the Pennine Way over Kinder Edge onto Bleaklow, so I often meet the Spine Race stragglers moving in the opposite direction.
I remember one year of particularly awful weather when the Pennine Way was knee-deep in melting snow, the wind was blowing sleet horizontally, and the poor Spine Race 'runners' were bent over face downwards, with 400km+ still to go. I, on the other hand, had only an hour to run before hot soup, tea and a shower, followed by an evening beside the fire. I remember thinking then that one would have to be crazy to sign up for the Spine Race!
WHAT APPEALS MOST TO YOU ABOUT THE SPINE RACE?
I'm not entirely sure (there are days when I ask myself what on earth possessed me), but I think it's about attempting something that I'm not sure I can complete, at least not in a racing capacity in winter.
HOW DO YOU TRAIN AND PREPARE FOR SUCH A SAVAGE RACE?
Interestingly, the Spine Race is probably the first race in my life that I've done specific training for. At the start of autumn last year I was struggling to find motivation, and as a result my weekly mileage dropped to around 30-40 miles of pottering around. I was finding it really hard to get up and train at 4.30am before work in the dark and cold, after a night of not very much sleep (our one-year-old daughter Rowan still doesn't sleep through the night).
I realised that I needed to change something, or to scrap the idea of racing the Spine Race. So I made some changes, and without revealing all my training secrets (I'll do that if the Spine Race goes well!), I can say that I've definitely increased my mileage (up to 80-100 miles a week), and have been regularly running with a pack on my back. The sleep deprivation is one aspect I've not needed to do any additional training for…
WILL IT BE THE LONGEST & TOUGHEST RACE YOU'VE EVER DONE?
Absolutely. I've run several long races in the past, including Trans-Alpine Run (273km) and the Dragon's Back (315 km), but these took place in summer, and were run in a staged fashion. That meant I was typically racing for only 5-8 hours every day, with the remainder of the 24 hours to rest, eat and sleep. The Spine Race will be very different, as I will be racing non-stop, mostly in darkness and winter weather conditions, and probably also largely on my own.
IT WILL BE AS MUCH A MENTAL BATTLE AS A PHYSICAL ONE. HOW WILL YOU WIN THE MENTAL BATTLES?
Yes, I think the mental battle will probably be my biggest challenge. For one thing, I think I'll really miss Rowan, who I have only been away from a couple of times for a single night since she was born. On the plus side, I think I'll have the very best motivation for getting to Kirk Yetholm as quickly as possible!
In general, I think one tends to go through rough patches on most long races, so I've had a reasonable amount of experience with the mental battles. It helps to remember that these patches almost always pass in time, and things invariably improve with the coming of daylight. As long as I keep myself well fed and get at least a little sleep, I think I'll be able to push through.
ANY RACE TACTICS YOU'RE WILLING TO REVEAL?
I'm not sure I have many race tactics. I'll just start at a comfortable pace and aim to sustain it, as I always do. I'll try not to get into a race with any of the other competitors – at least not until the later stages. It's such a long way, and there are so many variables including weather and injuries, that I'd prefer to focus on getting myself to the finish line in one piece.
HAVE YOU PLANNED OUT IN ADVANCE WHEN YOU WILL SLEEP?
I'll probably play it by ear, although my gut feeling is that it is better to get some quality sleep and then move briskly between checkpoints, as opposed to dragging oneself along in a sleep-deprived haze struggling with navigation and cold.
IS THERE ANYTHING ABOUT THE SPINE RACE YOU ARE FEARFUL OF?
It sounds silly, given all the long fell races and mountain marathons I've run, but I'm a bit nervous about the navigation at night, in the event of blizzard conditions on the higher ground. If the ground is covered in snow there will be no way of knowing where the path is or what surrounds me, so a map and compass won't be of much help. On the plus side, every competitor is obliged to run with a handheld GPS device, and I'm currently practicing with that, which will hopefully be a good back up option.
NO WOMAN HAS EVER WON THE SPINE RACE OUTRIGHT. DO YOU THINK YOU COULD BE THE ONE?
I think it's not an impossibility, but I am aware of several other strong runners attempting this Spine Race, including some who have done very specific training, such as long runs on the route itself. This wasn't really an option for me, as the travel would have meant too much time away from Rowan.
AND FINALLY, WHAT'S THE BEST BIT OF ADVICE YOU'VE BEEN GIVEN BY A PREVIOUS SPINE RACE FINISHER?
Carol Morgan, who ran the Spine Race in 2017 & 2018 and holds the current female record (109hrs 54:00mins) has been wonderfully helpful with all my questions, but her greatest contribution has been by example. Her positive attitude and cheery approach to the Spine Race – bog or blizzard notwithstanding – are inspiring and I'll do my best to follow her example.
Post Credits : Inov-8