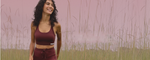 Lorna Jane
Lorna Jane Women's Activewear USA
Combining science at its core, and Lorna Jane's passion for inspiring women, our innovative, elevated and performance-focused gym products and workout clothes have been designed to help women to feel empowered, supported and beautiful at all times when wearing Lorna Jane activewear.
Committed to delivering the best women's activewear across America, Lorna Jane activewear has been engineered with over 30 years of innovation as well as our extensive fit and fabrication testing. Our workout clothes are created to stand the test of time and lasts against the wear and tear of intensive workouts and everyday wear.
With our focus on sustainability and environmental health, we stand by our brand message of "buy better, not more". Our gym clothes and athletic wear are crafted with recycled, reusable, biodegradable materials where possible, to deliver ethical activewear throughout all seasons, for every season. As we embrace environmental health, we continue to take measures as a company to preserve the resources of our planet and reduce our impact on landfills and our carbon footprint.